The AYANEO SLIDE handheld offers a unique combination of retro gaming and cutting-edge technology. It is now available for pre-order on Indiegogo, providing users a powerful and compact portable computer system and handheld games console. The highlight of the AYANEO SLIDE is its innovative adjustable floating screen, which allows gamers to customize their viewing angle from 0° to 30°. The screen's automatic spring mechanism ensures smooth adjustments without interrupting gameplay.
The AYANEO SLIDE features a 6-inch IPS display with a full HD resolution of 1920×1080. With 368 pixels per inch, the screen delivers sharp and detailed images. It also offers a brightness of 400 nits and covers 120% of the sRGB color spectrum. The display's contrast ratio of 1000:1 ensures vibrant and visually captivating gaming experiences.
In addition to its impressive visuals, the AYANEO SLIDE handheld games console is equipped with a feature-rich RGB backlit keyboard. The keyboard slides out from the unit and provides the feel and responsiveness of a traditional gaming keyboard, complete with standard keys and functional shortcuts. The RGB backlighting enhances visibility in low-light conditions, ensuring comfortable and immersive gaming sessions.
Handheld games console with full keyboard
The AYANEO SLIDE prioritizes durability and ergonomics in its design. It has a robust "sandwich" structure that reinforces reliability and showcases a sleek, screw-free exterior. The ergonomic design offers a spacious keyboard layout, easy-to-navigate keys, and a natural grip for enhanced user comfort.
Under the hood, the SLIDE is powered by high-performance hardware capable of running the latest gaming titles. Its advanced "3+2" cooling system, which includes copper elements and a high-pressure turbine fan, keeps the device cool and prevents overheating. Early bird pricing starts at just over $700, offering a 22% discount off the recommended retail price.
AYANEO SLIDE pricing and availability
The SLIDE's master controller features conductive gel buttons, providing a softer and more responsive touch. The RGB light hall sensing joysticks and redesigned hall triggers offer precise control and add a stylish touch to the device's functionality. The SLIDE has a substantial 46.2Wh battery for extended gaming adventures, and PD fast charging ensures quick recharging.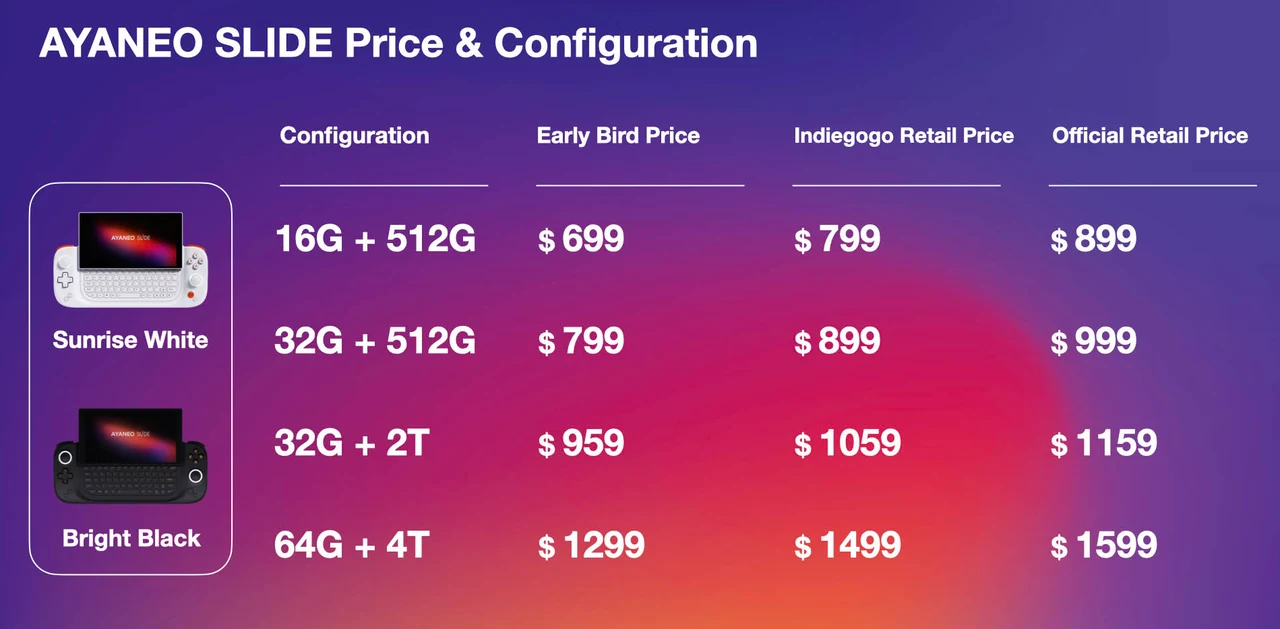 The AYANEO SLIDE is an accessible piece of innovation with an early bird rate of $699. It is expected to start shipping in mid-December. Whether you're a hardcore gamer or a tech aficionado, the AYANEO SLIDE promises to revolutionize portable gaming. Place your order on Indiegogo today to be among the first to experience this exciting new chapter in handheld gaming.
The AYANEO SLIDE handheld games console goes beyond gaming and makes a statement about the industry's future. It combines the familiar with the futuristic, blending portability with high-performance gaming. It respects gaming's roots while pushing boundaries in the palm of your hand.
As the gaming world evolves, the AYANEO SLIDE leads the charge. Its adjustable floating screen and robust cooling system set new standards. If you're ready to elevate your gaming experience and enjoy top-tier titles anywhere, the AYANEO SLIDE awaits. Don't miss the opportunity to be at the forefront of the next horizon of handheld gaming.